47th Basic Course in Ophthalmology 
Dr. Guillermo Picó Santiago
March 12-14, 2014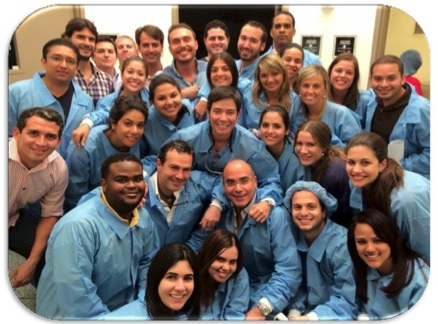 The 47th Basic Course in Ophthalmology took place in the University of Puerto Rico, School of Medicine, with the participation of approximately 25 Residents of Ophthalmology from Brazil, Dominican Republic, El Salvador, Mexico, Puerto Rico and Uruguay.
The Oculoplastic Seminar, organized by Dr. José Raúl Montes, was honored by the contribution of the following Oculoplastic Faculty: Dr. Faroche A. Melgen-Acra from the Dominican Republic, Dr. José L. Tovilla-Canales from Mexico, Dr. José R. Montes from Puerto Rico, and Dr. Asa D. Morton from the United States.
They offered their expertise in:
Eyelid, Orbital and Lacrimal Patholog
Lid, Lacrimal and Orbital Systems and Disorders
Techniques in Facial Rejuvenation
The Residents received an Orbit Stereoanatomy Seminar, and a complete Workshop on Cosmetic Patient Care in Oculopastic, including training in Botox and Injectables. As it is customary, a laboratory in reconstruction techniques [utilizing pig's feet] was held at the Surgical Research Laboratory of University of Puerto Rico, School of Medicine.
Also contributing was our local Faculty comprised of Dr. Hiram A. Ruiz, Dermatologist, Dr. Román Vélez, Pathologist, and Dr. José Lara, Radiologist.