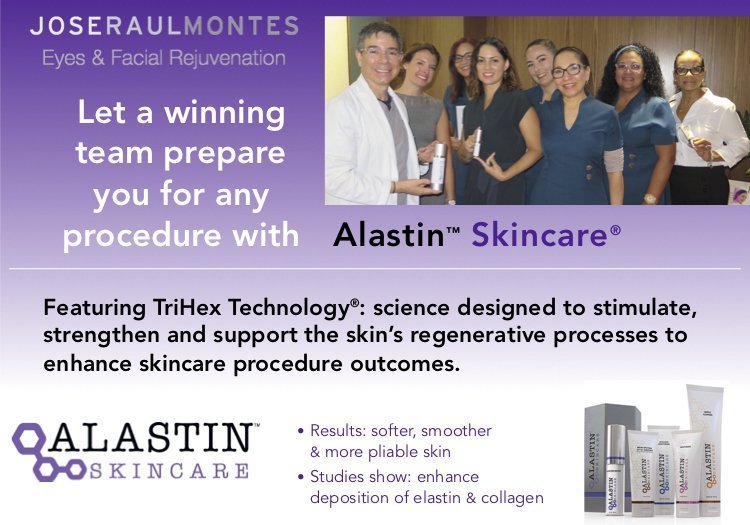 About Your Skin – Alastin Skincare
Follow the link to purchase your Alastin Products.
By purchasing any of the products below, you will be purchasing through Dr. Jose Montes MD.
https://www.alastin.com/DrJoseMontesMD
«The key to a successful surgery or procedure is a healthy skin. To prepare my patients' skin before surgery and maintain their results, I recommended Alastin.»
---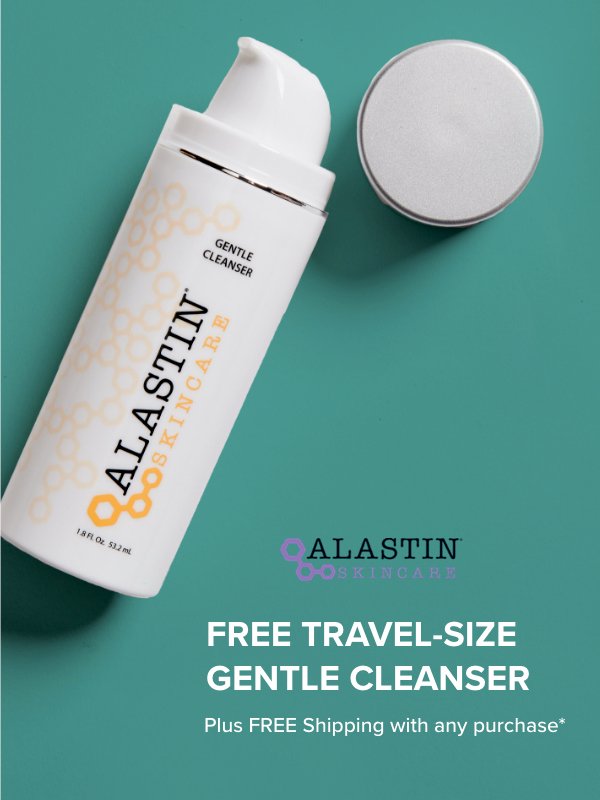 Get your ALASTIN skincare favorites, delivered to your door.
Browse our skincare shop at: https://www.alastin.com/DrJoseMontesMD
Two days only, receive a Free Travel-Size Gentle Cleanser and Free Shipping with every purchase.*
*To redeem offer, after you've selected items to purchase, select "ADD TO CART" when free gift message prompt appears before checkout; discount taken at checkout; no code needed; valid 3/30 – 3/31/20; limit one free gift per customer.
---
These four ALASTIN best-sellers will have your skin glowing from the inside out. Featuring the Restorative Skin Complex with TriHex Technology®, Restorative Eye Treatment with TriHex Technology®, Ultra Nourishing Moisturizer with TriHex Technology® and HydraTint Pro Broad Spectrum Sunscreen SPF36.
ALASTIN Skincare® Overview
The ALASTIN Skincare product line helps prepare and increase skin receptivity to procedures as well as enhancing the healing process in order to optimize the overall procedure result. The products are also designed to combat the signs of aging, and improve and maintain skin health with daily use. ALASTIN Skincare products, with proprietary TriHex Technology®, feature a patent-pending synergistic blend of potent peptides and key ingredients in a formulation designed to penetrate the skin. ALASTIN Skincare products featuring TriHex Technology are based on proprietary science designed to stimulate, strengthen and support the skin's regenerative processes to enhance skincare procedure outcomes. When stimulated by ALASTIN Skincare products, the new skin is softer, smoother and more pliable.
In histological studies, ALASTIN Skincare products have been shown to enhance the deposition of both elastin and collagen. This demonstration of enhanced elastin deposition in histological studies has established ALASTIN Skincare as the leader among skincare lines in the area of elastin stimulation.
Importance of Elastin and Collagen
Elastin and collagen are the primary structural component proteins in the dermis. Collagen and elastin are abundant in early skin and critical for its ability to renew and regenerate. Levels of collagen and elastin begin diminishing almost immediately from birth, and by middle age, elastin replenishment is minimal.1,2,3,4
Therefore, skin becomes less and less able to naturally recycle itself and regenerate, resulting in slower wound healing and the tell-tale signs of aging, including:
Discoloration
Wrinkles and sagging facial areas
Thinning skin
Loss of elasticity and support
Pre-procedure and aged skin often presents with the following:5

Peptides and Skin Regeneration
Peptides are small proteins naturally present in the body that direct cell signaling. Certain peptides signal the generation of collagen and elastin. Also, some have modulating and recycling properties of the extracellular matrix (ECM), enhancing the skin's own ability to generate renewed, healthy skin.
Effects of Time on the ECM
The ECM, the largest component of the dermal skin layer, is the central orchestrator of skin repair and regeneration. The ECM provides the background for cellular and matrix component signaling and cross-talk. Over time, certain factors create waste products in the ECM including:
• Extrinsic factors: sun (primary) and other environmental factors
• Intrinsic factors: genetics, aging, hormones
These waste products result in protein clumping. Protein clumps clutter the ECM, interfering with the crosstalk necessary for healthy cellular regeneration – i.e. the body's ability to produce fresh, healthy skin.6,7,8,9,10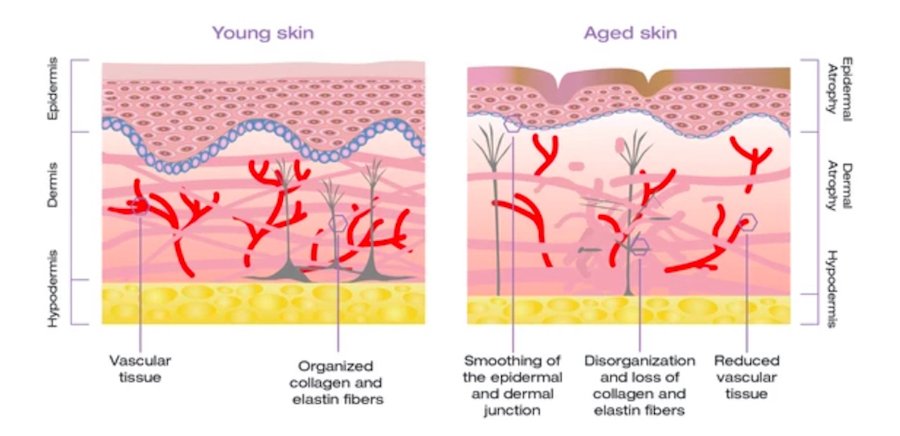 Skin Bed Preparation
In aged skin, collagen and elastin clumping leads to inefficient fibroblasts and compromised ECM. The strategy for reversing this long term-damage is to recycle the ECM and begin to remove the clumped protein fragments, thereby allowing natural cell signalling to occur effectively in order to stimulate regeneration of collagen and elastin.
Similar to how the chronic wound healing process requires wound bed preparation before therapeutic intervention, treatment of chronic aging of the skin benefits from a "skin bed preparation" to optimize the outcome of rejuvenation procedures and skin maintenance programs. This skin bed preparation serves to optimize procedure outcomes by creating an environment ideal for healing and regeneration.
Ideally this skin bed preparation or pre-conditioning takes place over a 2-3 week period prior to the procedure. TriHex Technology™ stimulates the clearing of the debris from the ECM, allowing the body to produce new collagen and elastin.
Skin Repair
Although many patients believe the healing process is complete within a few short weeks post-procedure, that visible healing is only on the skin's surface. In truth, the full healing process can last well beyond the visual signs of recovery. Invasive and non-invasive procedures require specific aftercare and the healing process can last as long as 1-3 months post-treatment.
When skin is cut or injured in a surgical, ablative, laser or peel procedure, the body begins a natural process of healing, including:
• The Inflammation Phase: stabilizes the site and cleans away dead cells and any bacteria; lasts a short period of time and if prolonged, can lead to scar formation
• The Reparative Phase: skin cells multiply and initiate mobilization to close the wound and regenerate the epidermis (outer skin layer)
• The Remodeling Phase: completes the skin remodeling; can take 30-90 days or more and is marked by the formation of new layers of skin built up from within; moderation of inflammation can reduce scarring and discoloration.
Similar to how the chronic wound healing process benefits from wound bed preparation, treatment of aging of the skin may be improved with a "skin bed preparation" to optimize rejuvenation procedures and skin maintenance programs.
---
Pickart L, Margolina A. Anti-aging Activity of the GHK Peptide – The Skin and Beyond. Journal of Aging Research & Clinical Practice 2011. Volume 1
Seite S, Zucchi H, Septier D, Igondjo-Tchen S, Senni K, Godeau G. Elastin changes during chronological and photo-ageing: the important role of lysozyme. Journal of the European Academy of Dermatology and Venereology: JEADV 2006; 20(8): 980-7.
Varani J, Dame MK, Rittie L, et al. Decreased collagen production in chronologically aged skin: roles of age-dependent alteration in fibroblast function and defective mechanical stimulation. Am J Pathol 2006; 168(6): 1861-8.
Frantz, Christian, Stewart, Kathleen M, Weaver, Valerie M. The Extracellular Matrix at a glance. Journal of Cell Science 2010; 123, 4195-4200.
Watt, Finoa M, Fujiwara, Hronobu. Cell-Extracellular Matrix Ineractions in Normal and Diseased Skin. Cold Springs Harb Perspect Biol 2011; 3:a0005124
Ganceviciene R, Liakou AI, Theodoridis A, Makrantonaki E, Zouboulis CC. Skin anti-aging strategies. Dermato-endocrinology 2012; 4(3): 308-19
Fisher GJ, Quan T, Purohit T, et al. Collagen fragmentation promotes oxidative stress and elevates matrix metalloproteinase-1 in fibroblasts in aged human skin. Am J Pathol 2009; 174(1): 101-14.
Quan T, Little E, Quan H, Qin Z, Voorhees JJ, Fisher GJ. Elevated matrix metalloproteinases and collagen fragmentation in photodamaged human skin: impact of altered extracellular matrix microenvironment on dermal fibroblast function. The Journal of investigative dermatology 2013; 133(5): 1362-6.
Attia-Vigneau J, Terryn C, Lorimier S, Sandre J, Antonicelli F, Hornebeck W. Regeneration of human dermis by a multi-headed peptide. The Journal of investigative dermatology 2014; 134(1): 58-67.
Fligiel S, Varani J, Datta S, Kang S, Fisher G, Voorhees JJ. Collagen Degradation in Aged/Photodamaged Skin InVivo and After Exposure to Matrix Metalloproteinase-1 InVitro The Journal of investigative dermatology 2003; 120: 842-84.
Adair-Kirk TL, Senior RM. Fragments of Extracellular Matrix as Mediators of Inflammation. The international journal of biochemistry & cell biology. 2008;40(6-7):1101-1110. doi:10.1016/j.biocel.2007.12.005. Philips N, Auler S, Hugo R, Gonzalez S. Beneficial regulation of matrix metalloproteinases for skin health. Enzyme research 2011;2011: 427285.
---
TriHex Technology ® – Alastin Skincare
ALASTIN Skincare ® formulates products with TriHex Technology, a proprietary blend of active peptides and botanicals specifically engineered to work with the skin to clear out old collagen and elastin proteins that have been damaged by sun exposure and aging while supporting the skin's natural ability to produce new collagen and elastin.1
1. Remove
TriHex Technology supports the REMOVAL of aged collagen and elastin to help jump-start the skin's natural rejuvenation process. Collagen and elastin break down and clump together due to photodamage and aging, which can slow down the production of new, healthy collagen and elastin in the deepdermal structure of the skin.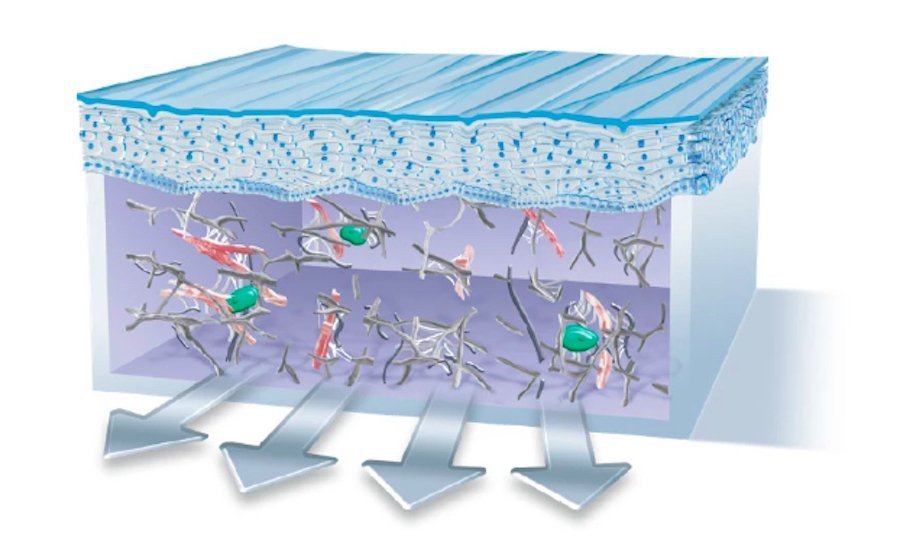 Damaged skin barrier protection
Dry and dull-looking skin
Prone to the appearance of wrinkles, fine lines,and thin skin
2. Rebuild
TriHex Technology helps the skin REBUILD healthy collagen and elastin to support visible changes at the surface level. TriHex Technology helps restore the optimal skin environment and create room for new, healthy collagen and elastin by removing the damaged fragments.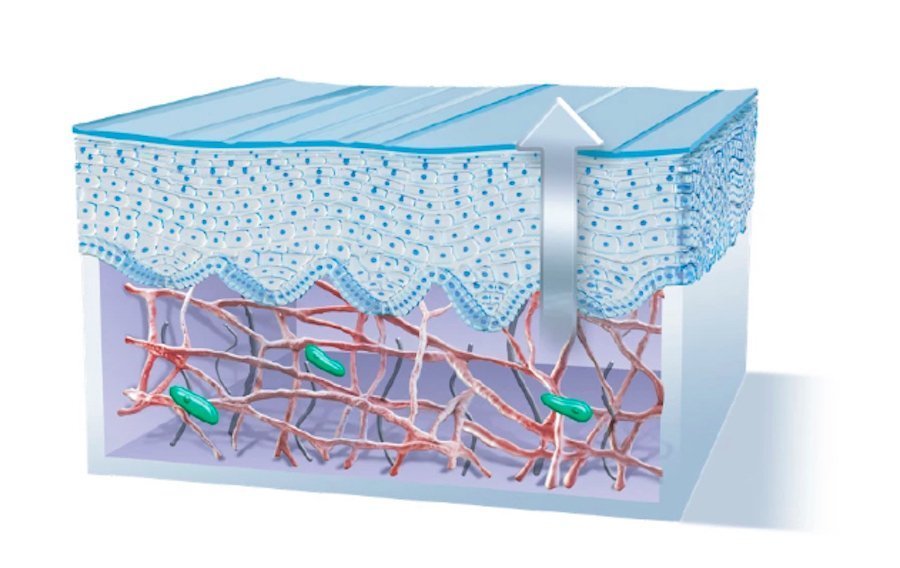 Smoother skin texture
More hydrated skin
Enhanced skin elasticity
Stronger skin barrier to protect against future damage
Improved appearance of fine lines, wrinkles, and thin skin
Damaged skin barrier protection
3. Replenish
With daily use, TriHex Technology helps to REPLENISH new, healthy collagen and elastin and clear the damaged fragments to maintain healthy skin from the inside out on an ongoing basis.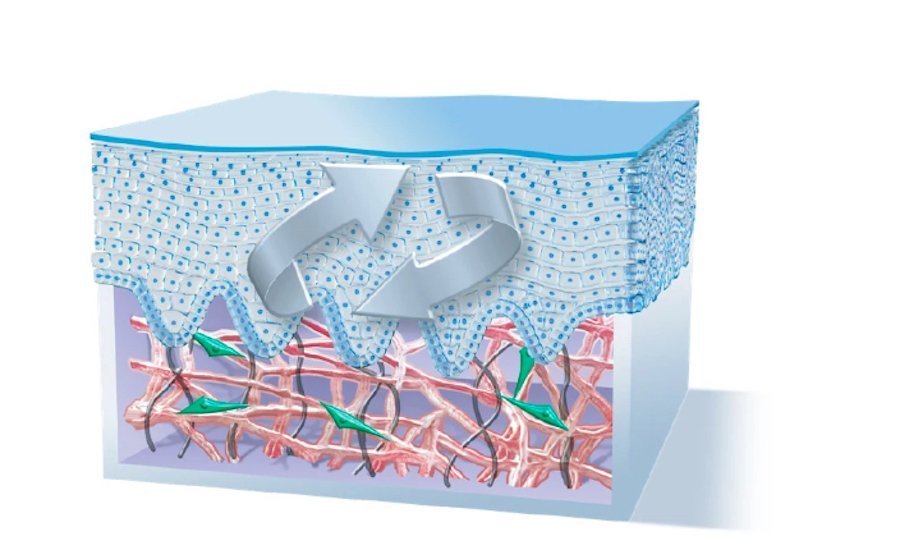 Daily maintenance with TriHex Technology for ongoing skin rejuvenation
Helps to maintain healthy skin and a more youthful appearance
The importance of skin bed preparation
A key differentiator with TriHex Technology is its proprietary recycling mechanism to help REMOVE aged, damaged fragments and restore the optimal environment for new, healthy collagen and elastin.
---
1. Widgerow AD, Fabi SG, Palestine RF, et al. Extracellular matrix modulation: optimizing skin care and rejuvenation procedures. J Drugs Dermatol. 2016;15(4)(suppl):s63-s71.
---
ALASTIN Skincare ® Product Experience Study
Female, Age 71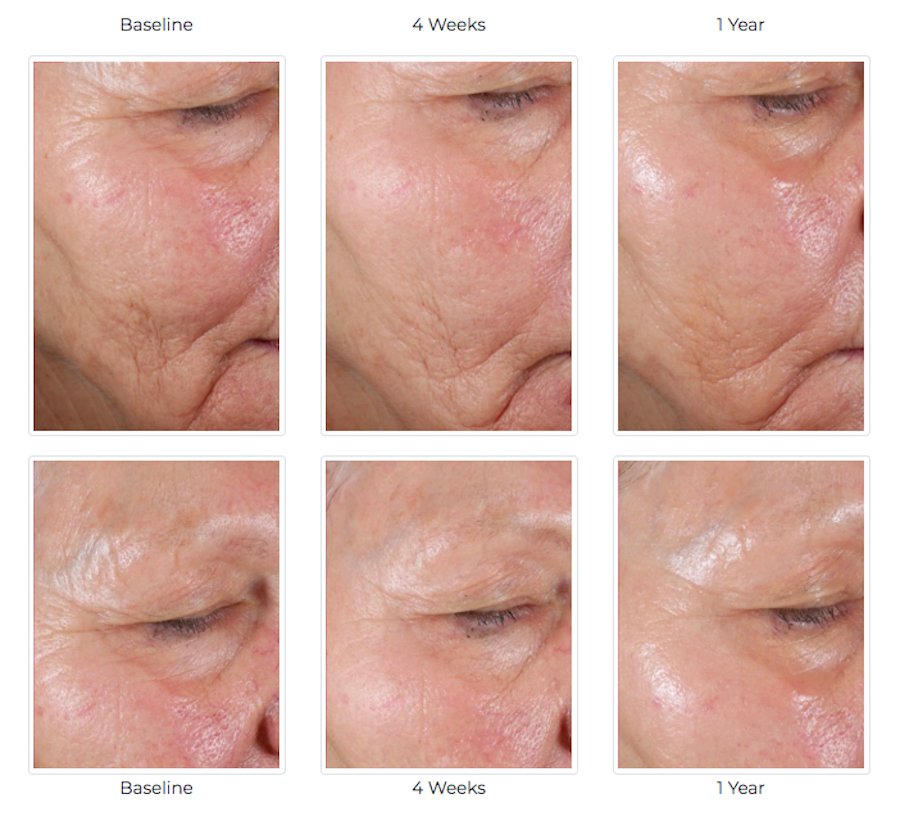 Unretouched photographs of subject at baseline and after 4 weeks and 1 year using Gentle Cleanser, Restorative Skin Complex, Restorative Eye Treatment, Ultra Nourishing Moisturizer, Alastin Sunscreen. All products were used twice per day, except sunscreen used morning only. Individual results may vary. Data on file at ALASTIN Skincare.
Restorative Eye Treatment
with TriHex Technology™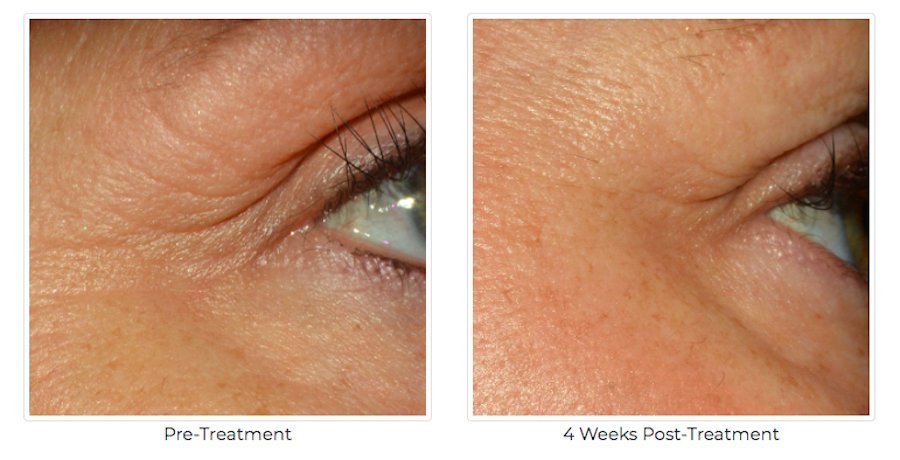 Female Age 55; Regimen: Restorative Eye Treatment, used twice daily (AM and PM); Imaging Equipment: Photos were taken with QuantifiCare 3D LifeViz® Micro imaging system.
Procedure Enhancement System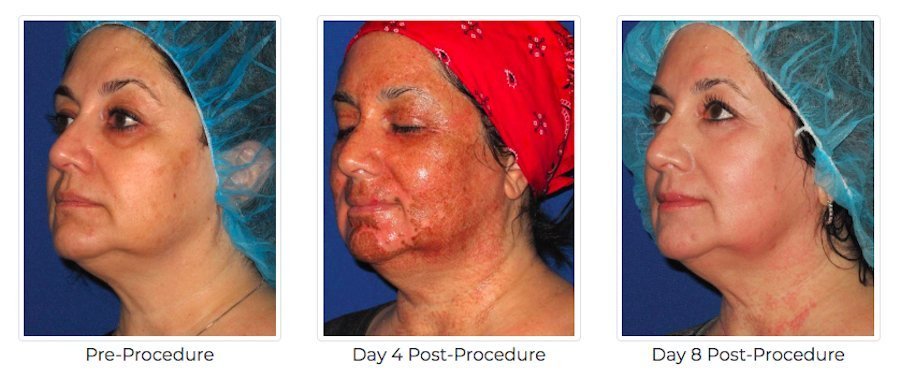 Laser: FXCO2 Active FX; Two passes on Full Face (125 mj/ 300hz / Neck: 100 mj/300hz)
Unretouched photographs of subject at baseline and after TotalFX Laser Treatment. Procedure Enhancement System- Invasive Kit was used two weeks pre- and post-care. Individual results may vary. Data on file at ALASTIN Skincare.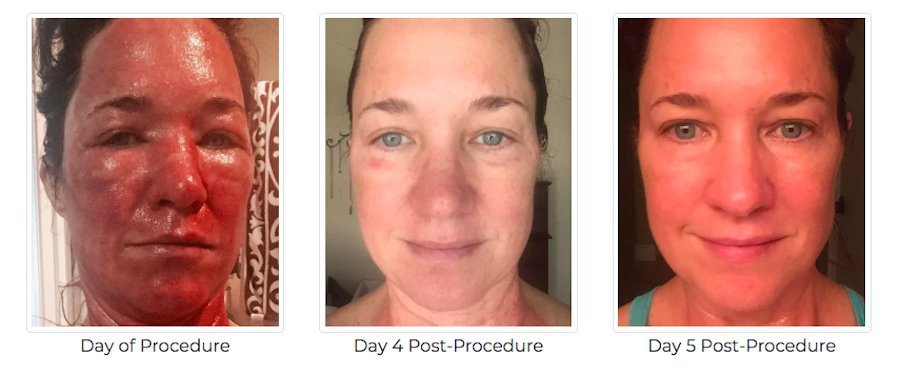 Laser: Pixel CO2; Power High, 0mm spacing; 2 passes Face & Neck (100 mj/pixel lower face & 80mj/pixel forehead)
Unretouched photographs of subject at baseline and after Pixel CO2. Procedure Enhancement System- Invasive Kit was used two weeks pre- and post-care. Individual results may vary. Data on file at ALASTIN Skincare.


---
The Media is Buzzing – Alastin Skincare
Beauty editors and skincare experts are raving about ALASTIN Skincare®. Watch this highlight reel featuring our recent press and awards, and see all recent media mentions below.
THE OPRAH MAGAZINE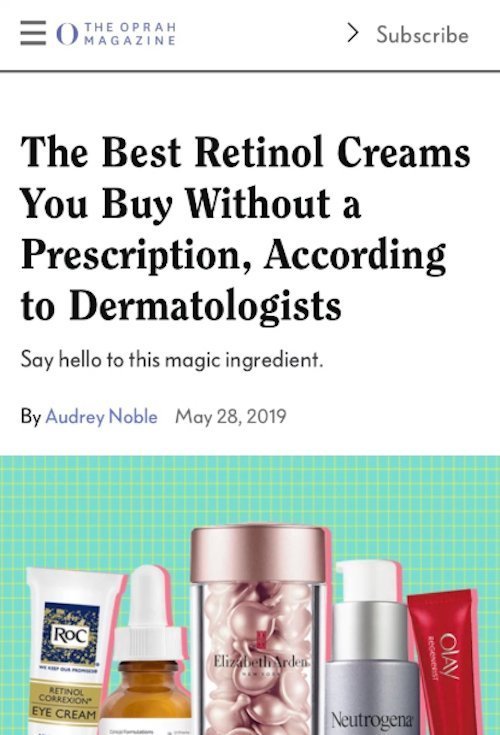 The Best Retinol Creams You Buy Without a Prescription, According to Dermatologists
«Since aging skin is often dehydrated and has difficulty tolerating more harsh formulations, I recommend ALASTIN Skincare®'s Renewal Retinol 0.5% as a well tolerated but effective retinol,» says dermatologist Melissa K. Levin, MD.
SELF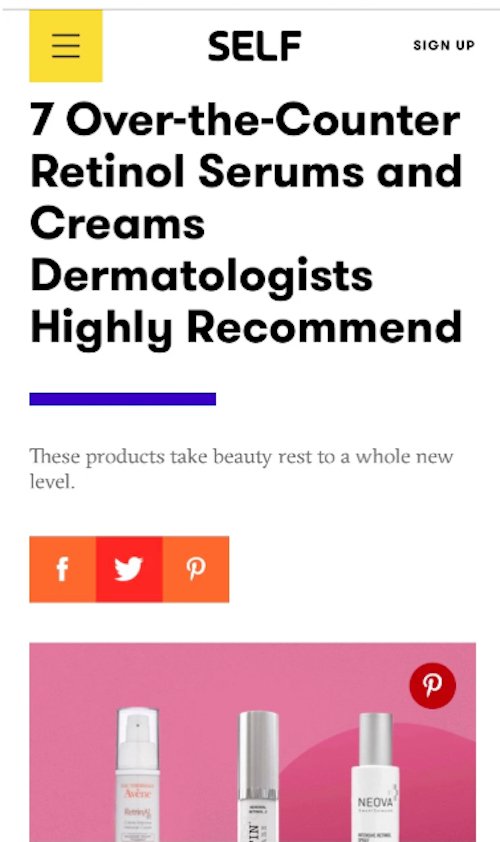 7 Over-the-Counter Retinol Serums and Creams Dermatologists Highly Recommend
ALASTIN Skincare® 0.5 Renewal Retinol
"This retinol comes in two strengths, and is gentle because the active ingredient is encapsulated in a solid lipid." —Dr. Fusco
"I love this particular product for those of us who are sensitive and need a humectifying product that is soothing and calming." —Dr. Linkner
NEWBEAUTY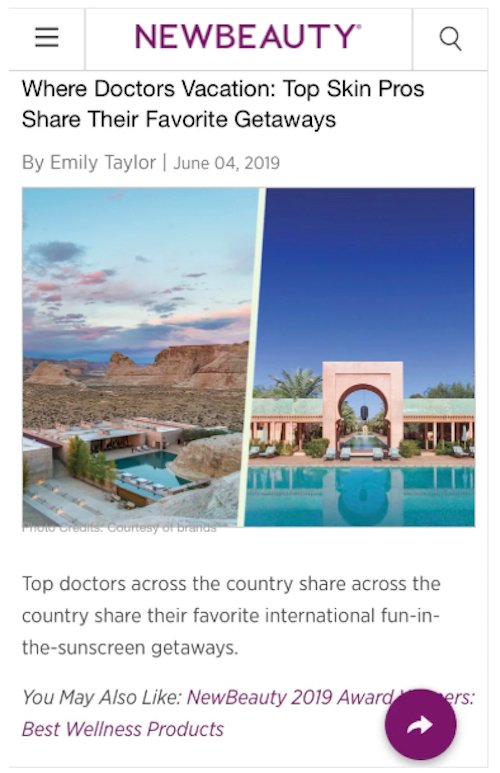 Where Doctors Vacation: Top Skin Pros Share Their Favorite Getaways
«I recently visited the Ritz-Carlton Beach Resort in Naples, FL and had a wonderful experience. From the beautiful, powder-white beaches to the multiple swimming pools and grounds, it was truly delightful!…. I love ALASTIN Skincare®'s HydraTint SPF 36, as it gives my skin a nice glow while protecting it." —Chicago dermatologist Dr. Quenby Erickson
VOGUE
The 10 Best Dermatologist-Approved Sunscreens for Summer
Summer is finally here. And while it's synonymous with rosé-filled weekends spent poolside for some, or riding waves for others, it also demands the task of applying (and reapplying) sunscreen. ⠀
⠀
And who better to ask for SPF advice than a dermatologist? After all, with skin always on their minds, they are the first ones—along with mothers—to lecture on safe sun practices.
COSMOPOLITAN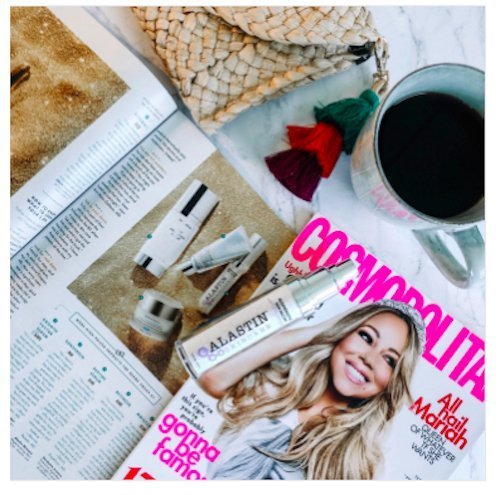 Sometimes Expensive Skin Care Really Is Worth It
«This [Regenerating Skin Nectar] is the ultimate multitasker. It clears away damaged skin cells and also supports healthy collagen and elastin — two proteins in skin that keep it plump and firm. And the silky texture is great for layering under other skin-care products and makeup.» ⠀- Marina Peredo, MD
Read the complete article in the August 2019 Cosmopolitan issue
---
Press Releases
July 30, 2018 – OrangeTwist Aesthetic Treatment Boutique Adds Revolutionary Alastin Skincare® Products To Cutting-Edge Aesthetic Practices
October 08, 2018 – ALASTIN Skincare® Unveils Breakthrough Product: TransFORM Body Treatment With Trihex Technology® At American Society For Dermatologic Surgery (ASDS) Meeting
October 30, 2018 – ALASTIN Skincare® Announces Issuance Of U.S. Patent Based On Revolutionary TriHex Technology®
November 15, 2018 – ALASTIN Skincare® announces partnership with Novel Aesthetic Subscription Service
November 29, 2018 – ALASTIN Skincare® named Cosmeceutical Range of the Year, earns three MyFaceMyBody awards
January 22, 2019 – The HydraFacial® Company Partners With ALASTIN Skincare®
February 28, 2019 – ALASTIN Skincare® Unveils New TriHex Preview Regimen During AAD
March 11, 2019 – ALASTIN SKINCARE® TransFORM Body Treatment, 2019 NewBeauty Award Winner in the Innovations Category
April 11, 2019 – ALASTIN Skincare®'s TransFORM Body Treatment with TriHex Technology® Accelerates Body Sculpting Results with Unique Peptide and Liposome Delivery System
May 16, 2019 – ALASTIN Skincare® Publishes Preliminary Findings in Preoperative Skin Conditioning with a TriHex Technology® Formulation for Enhanced Post-Treatment Aesthetic Results
May 30, 2019 – Post-Cosmetic Surgery and Non-Surgical Body Contouring Procedure Recovery Outcomes Using ALASTIN Skincare's® TransFORM Body Treatment and Regenerating Skin Nectar with TriHex Technology® Presented at the 2019 ASAPS and SPSSCS Meetings
July 09, 2019 – ALASTIN Skincare® Announces Issuance of Second U.S. Patent Based on Revolutionary TriHex Technology®