The award winning excel V ™ is the only tunable laser system on the market that combines two ultra-precise, best-in-class laser wavelengths (532/1064 nm) in one device. Delivering precision treatment parameters with unmatched versatility, excel V has the flexibility to treat any case, from superficial and deep vascular conditions to benign pigmented lesions.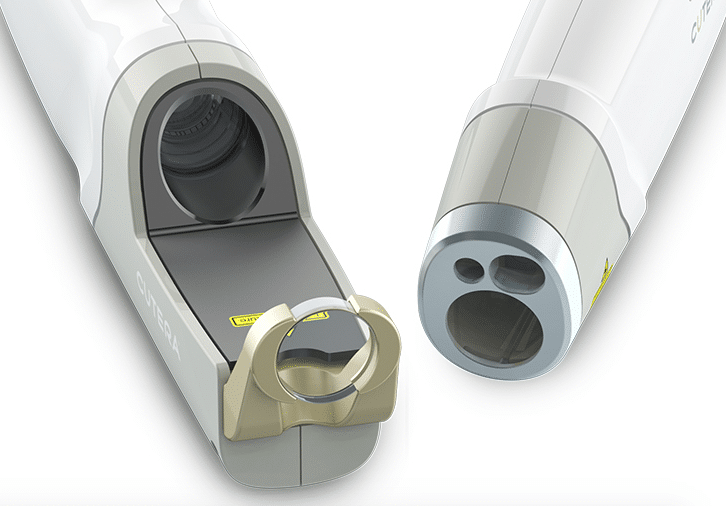 Get the WOW!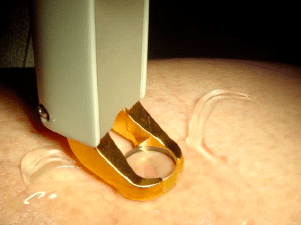 For most noninvasive medical aesthetic procedures, results become visible over a course of treatments. But with excel V, both practitioners and patients are saying "WOW!" for a broad range of applications where the results are immediate. See for yourself why excel V is so great at producing "WOW".
Proprietary truPulse™ technology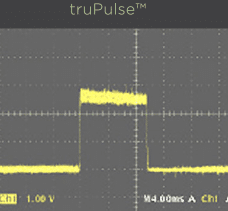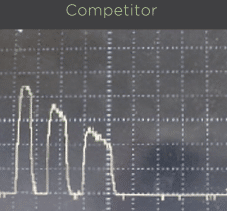 CUTERA's truPulse™ technology is the only true long-pulse Nd:YAG to deliver consistent and sustained energy throughout the pulse duration solidifying excel V's position as the first clinically effective long-pulse Nd:YAG for lower extremity vascular lesions such as leg veins.
Go Green with 532 nm
In a side-by-side, split face clinical study published in Dermatologic Surgery*, the 532 nm KTP laser was at least, if not more, effective than the 595 nm pulsed-dye laser in all subjects with facial telangiectasia and telangiectatic erythema (redness). The study also showed that the 532 nm KTP laser achieved quicker clearing of targeted lesions in addition to increased patient comfort when compared to the 595 nm pulsed-dye laser.
* N. Uebelhoer, DO, M. Bogle, MD, B. Stewart, CCRC, K. Arndt, MD & J. Dover, MD, FRCPC, FRCO; A Split-Face Comparison Study of Pulsed 532-nm KTP Laser and 595-nm Pulsed Dye Laser in the Treatment of Facial Telangiectasias and Diffuse Telangiectatic Facial Erythema. Dermatol. Sur., 33:441-448 (2007).
Think Red, Purple, Blue and Brown
Why does excel V have such a loyal following amongst medical aesthetic practitioners globally? Consider all of the cases requiring correction of Red, Purple, Blue and Brown lesions. With the capability to treat nearly 20 different indications on all skin types, excel V offers the broadest capabilities to treat the widest range of vascular to benign pigmented lesions.
Polish For Perfection

The optional Genesis V™ handpiece delivers 1064 nm Nd:YAG laser energy in gentle micropulses to safely target microvasculature stimulating neocollagenesis improving wrinkles and visible signs of aging. Popular with both patients and practitioners, polish and complete every skin aesthetic treatment with CUTERA's Laser Genesis™ procedure.
Comfort Cooling

excel V's premium sapphire contact cooling is designed to offer continuous cooling before, during and after each laser pulse, ensuring the highest level of patient comfort while eliminating the risk of under-cooled and over-treated areas. excel V's contact cooling is optimized for greater efficiency, versatility, comfort, and safety without consumables.
Before & After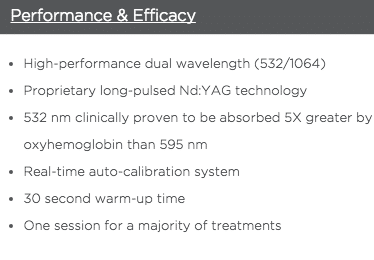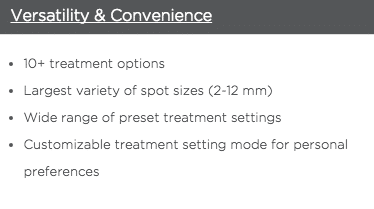 excel V ™ and the Oculoplastic Surgeon
Video Transcription:
Ivonne: Because preventing is living, today oculoplastic surgeon José Raúl Montes joins us to talk about an alternative to eliminate, among other things, varicose veins. Good morning. Welcome.
Dr. JRM: Good morning Ivonne and good morning to all our viewers.
Ivonne: What is the advantage of this Excel V system that you are exclusively bringing to Puerto Rico?
Dr. JRM: Excel V is a new technology that we are very proud to bring to Puerto Rico. It is a laser, which is used for certain lesions, such as brown color, red or violet, everything that is related to vascular lesions. In this video, you can see some of the lesions that can be treated with this laser, in patients of all skin types and ages, for example, patients suffering from diseases, such as prominent vessels or veins around the eyes. This was one of the reasons that caught our attention. This is one of the most effective lasers in the market, especially for rosacea patients, for whom there are not many medications or alternatives; the rosacea improves. Patients with scars or inflammatory conditions like acne can also be treated and will see great results. Patients with reddened lesions in the chest and neck, what is known as a poikiloderma, can also be treated with great success.
Ivonne: How is the treatment done?
Dr. JRM: This treatment is performed on the patient, very quickly and, in many of the occasions, without anesthesia. The patient can return to his/her regular daily functions immediately afterward. What can happen after treatment? The patient may experience some degree of redness, inflammation, which can last from 24 to 48 hours. This laser also has the ability to rejuvenate the skin. It improves pigmentation, stimulates collagen, and improves the fine lines that appear on the skin.
Ivonne: Is this treatment painful?
Dr. JRM: With this treatment in most cases the patient feels nothing more than a slight pinch when the laser is applied. It is very tolerable and does not require any type of sedation or anesthesia. After the treatment, the patient should not feel any pain; perhaps only a little bit of redness.
Ivonne: How many treatments does a person require to notice a change?
Dr. JRM: It depends on the injury to be treated. If it is a large, very thick, deep lesion, on a slightly darker skin, maybe two, three, or four treatments will be necessary. For more superficial, small lesions, the lesion usually disappears with a single treatment.
Ivonne: What about veins? I know there are many people who are concerned about the appearance of their legs, particularly with varicose veins.
Dr. JRM: Varicose veins can also be treated. People think that veins only occur in the lower extremities, but we also have unwanted veins around the eyes, nose, etc. We are specializing in these specific areas where people have unwanted vessels: around the eyes, nose, and face.
Ivonne: Well, thank you so much for joining us this morning. The phone numbers are now on the screen to reach our surgeon.
Dr. JRM: My pleasure.