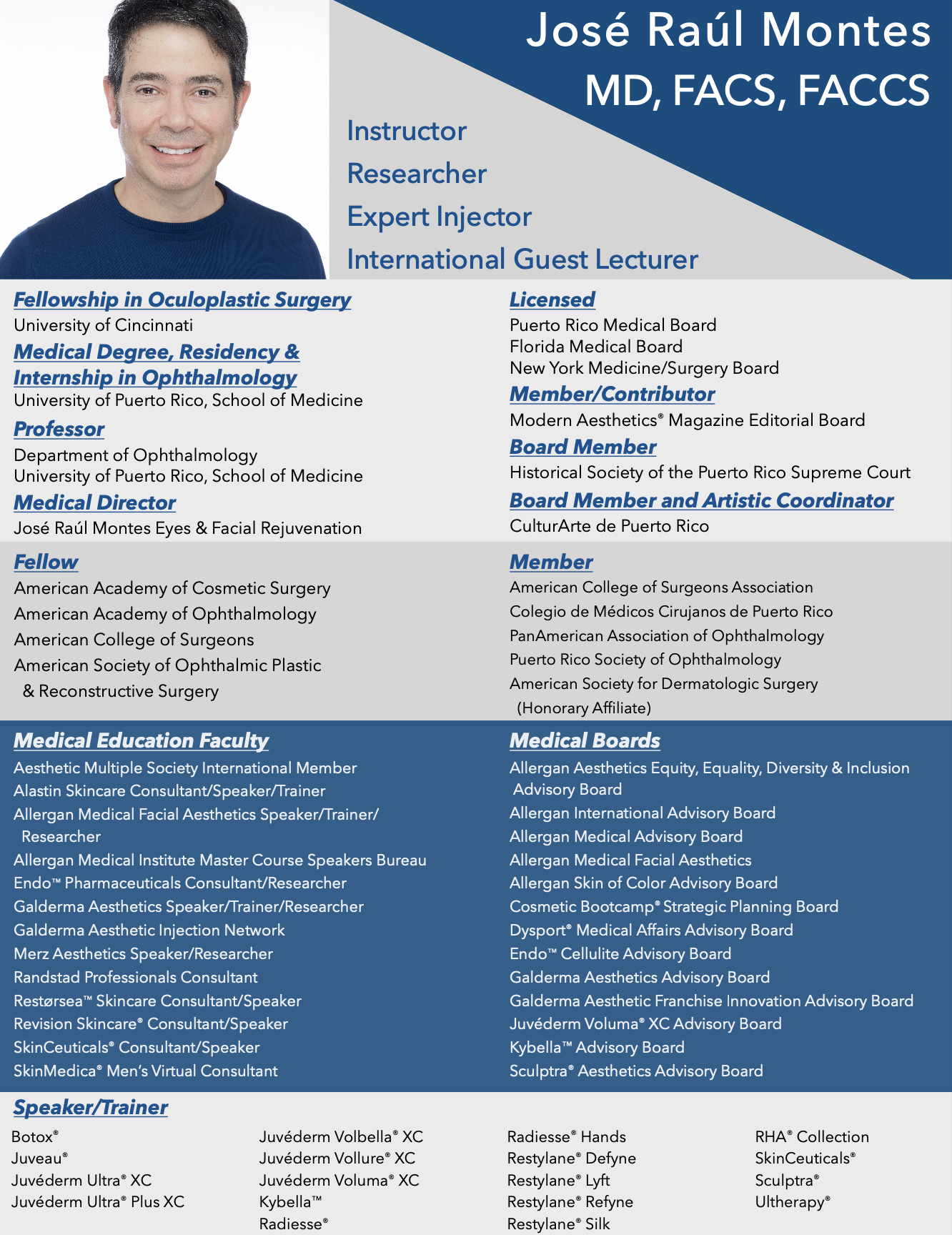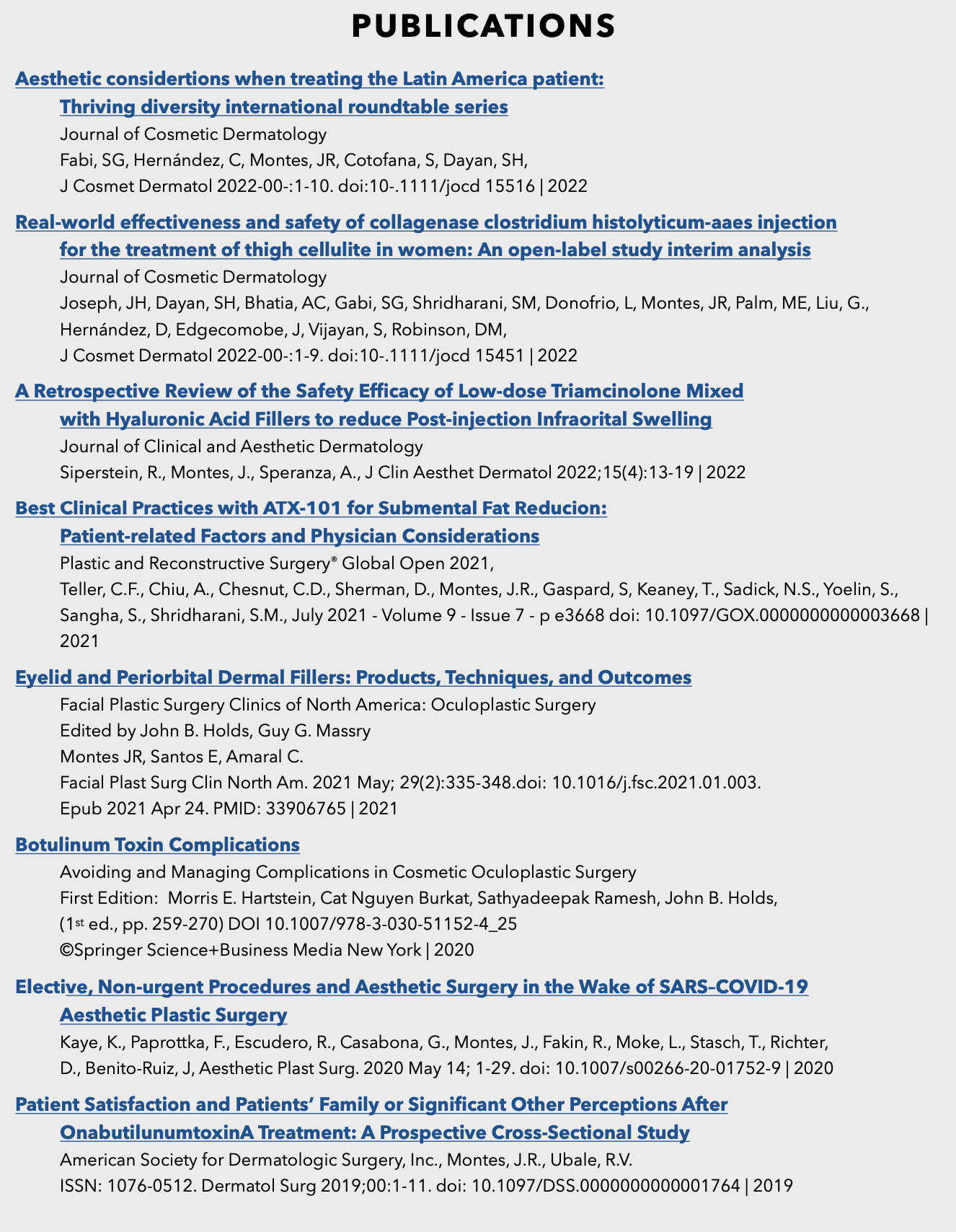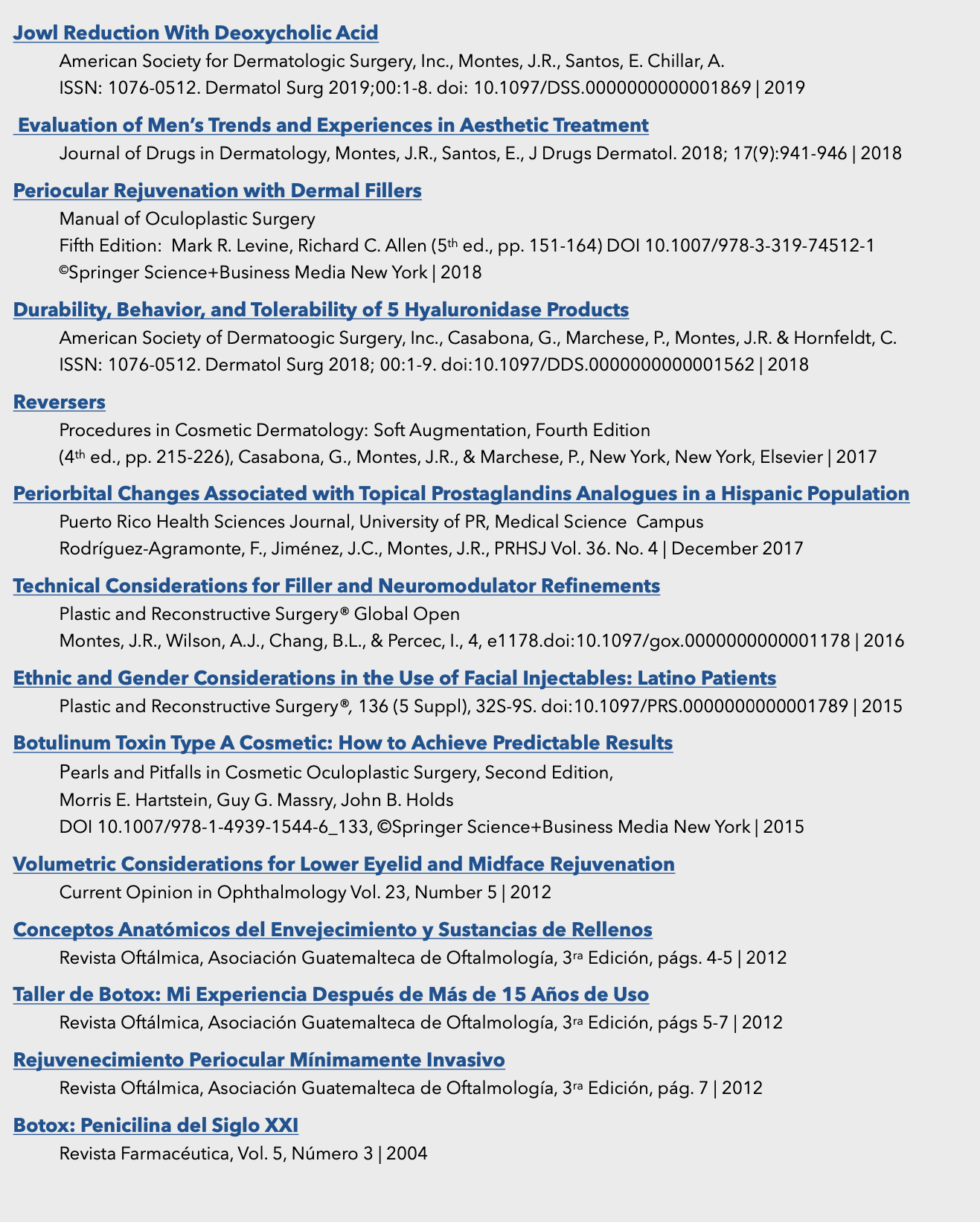 Dr. José Raúl Montes obtained his Medical Degree and completed his Residency/Internship in Ophthalmology at the University of Puerto Rico, School of Medicine. He then completed his Fellowship in Oculoplastic Surgery at the University of Cincinnati. He is licensed by the Puerto Rico Medical Board, the New York Medicine and Surgery Board, and the Florida Medical Board.
Dr. Montes is certified by the American Board of Ophthalmology. He is a Fellow of the American Academy of Cosmetic Surgery, American Academy of Ophthalmology, American College of Surgeons, and American Society of Ophthalmic Plastic & Reconstructive Surgery. He is also a Member of American College of Surgeons Association, Colegio de Médicos Cirujanos de Puerto Rico, PanAmerican Association of Ophthalmology, and Puerto Rico Society of Ophthalmology, as well as an Honorary Affiliate of the American Society for Dermatologic Surgery. Further, he is a Member and Contributor of Modern Aesthetics® Magazine Editorial Board.
As a Professor of the University of Puerto Rico School of Medicine, Dr. Montes has been mentoring students at the Río Piedras Medical Center. He has had the opportunity to teach workshops to the Residents, in the cosmetic, ophthalmology, and oculoplastic surgery fields. Furthermore, he spearheads the Ophthalmology Department's yearly Basic Course Dr. Guillermo Picó. As a local/international speaker, he has shared his expertise with the most prominent professionals in the industry, offering lectures/trainings in oculoplastic surgery, aesthetics and facial rejuvenation.
With over 25 years' experience and as member of various Advisory Boards for several pharmaceuticals companies, he has overseen the process of introducing new products for FDA‑approval into the United States. Consequently, Allergan, Galderma and Merz have chosen his practice as the Training Center and Pioneer in Puerto Rico for these newly approved products. His practice has been the pioneer in Puerto Rico of EMSculpt®, Juvéderm Volbella™ XC, Juvéderm Vollure™ XC, Juvéderm Voluma™ XC, Kybella™, Radiesse® Hands, Restylane® Defyne, Restylane® Refyne, Restylane® Silk, Sculptra® and Ultherapy®. He is also a Consultant for SkinCeuticals.
Dr. Montes is an established top injector being recognized among the nations' top injectors, endorsed by ExpertInjector™. Galderma selected him as one of the Top 100 Volume Injectors for Sculptra® Aesthetic in 2015, as well as an ASPIRE Reward Preferred Champion in 2016. Merz Aesthetics selected his office for two consecutive years (2015-2016) as one of the top Ultherapy® Treatment Providers in the USA, as well as a Top Cosmetic Practice in 2016.
Dr. Montes received the Doctors' Choice Award from Buena Vida magazine from 2012 to 2016, having been selected by his peers as one of the most outstanding physicians in plastic surgery and ophthalmology in Puerto Rico. In 2016, he received an Achievement Award as well as Continuing Education Recognition from the American Academy of Ophthalmology. His office is an International Patient Services Certified Provider, having met the requirements from the Medical Tourism Association in less than one year, achieving an almost perfect score.
Having a passion for the arts, Dr. Montes is a Board Member and Artistic Coordinator of CulturArte de Puerto Rico, a cultural organization devoted to promoting classical music, with a particular interest in opera. He is also a Member of the Government Board of the University of Puerto Rico Theater, and Board Member Historical Society of the Puerto Rico Supreme Court.