| BLEPHAROPLASTY | DROOPY EYELIDS | LOWER EYE BAGS & DARK CIRCLES | FOREHEAD LIFT |
---
Heading to Puerto Rico for your Blepharoplasty treatment? Contact Dr. José Raul Montes now.
It is time to discover the best treatments with Dr. Montes and his team in San Juan, Puerto Rico.
Blepharoplasty or Eyelid surgery
Your eyes are often the first thing people notice about you and are an important aspect of your overall appearance. As we age, the tone and shape of our eyelids can loosen and sag. Heredity and sun exposure also contribute to this process.
This excess, puffy or lax skin can make you appear more tired or older than you are. Eyelid surgery can give the eyes a more youthful look by removing excess skin, bulging fat, and lax muscle from the upper or lower eyelids.
If the sagging upper eyelid skin obstructs peripheral vision, blepharoplasty can eliminate the obstruction and expand the visual field.
Upper Blepharoplasty
For the upper eyelids, excess skin and fat are removed through an incision hidden in the natural eyelid crease. If the lid is droopy, the muscle that raises the upper lid can be tightened. The incision is then closed with fine sutures.
Lower Blepharoplasty
Fat in the lower eyelids can be removed or repositioned through an incision hidden on the inner surface of the eyelid. Laser resurfacing or a chemical peel can be performed at the same time if desired, to smooth and tighten the lower lid skin. If there is excessive skin in the lower lid, the incision is made just below the lashes. Fat can be removed or repositioned through this incision, and the excess skin removed. The incision is then closed with fine sutures.
Upper and Lower Blepharoplasty
Upper and lower blepharoplasty can be performed together and also can be combined with other procedures such as eyebrow or forehead lift, midface lift, face lift, neck lift, or laser skin resurfacing.
Who Should Perform a Blepharoplasty?
When choosing a surgeon to perform blepharoplasty, look for a cosmetic and reconstructive facial surgeon who specializes in the eyelids, orbit, and tear drain system, with an extensive training in ophthalmic plastic reconstructive and cosmetic surgery.

Pictures Before & After
Upper Eyelids: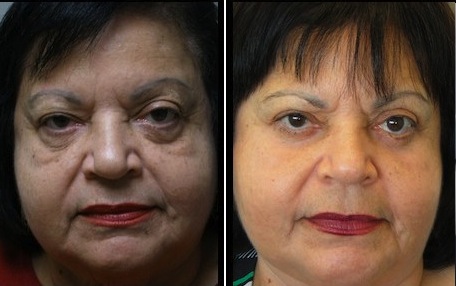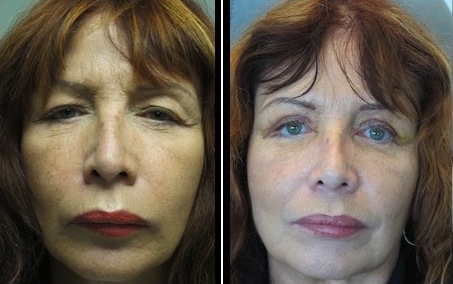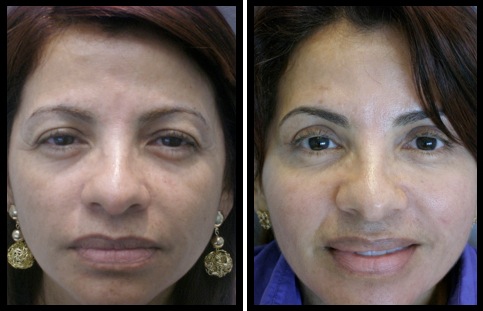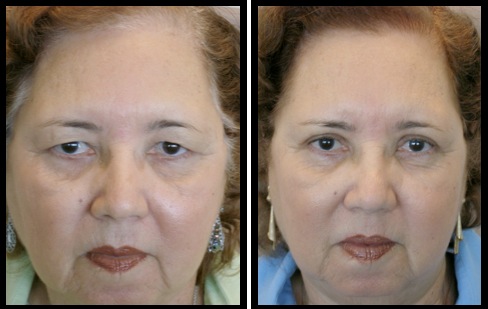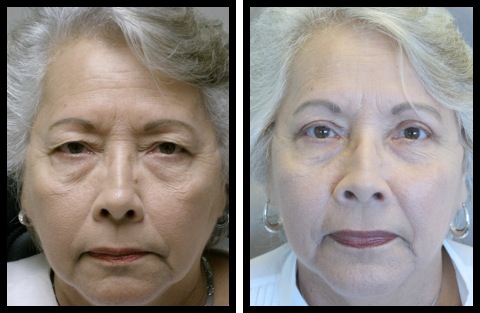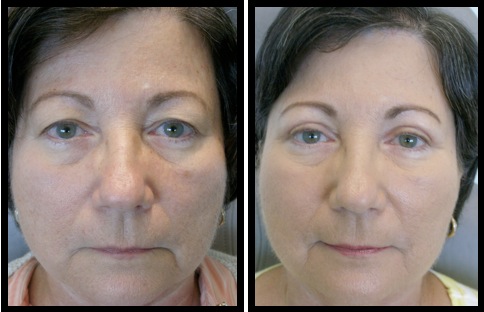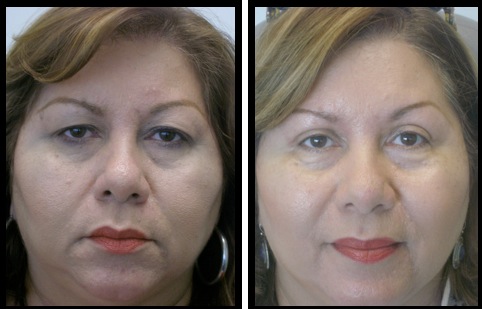 ---
Lower Eyelids: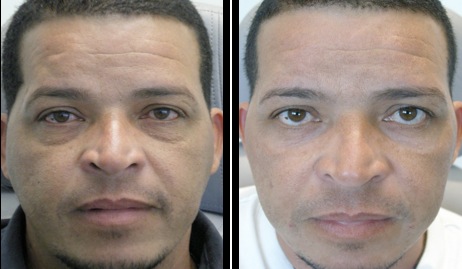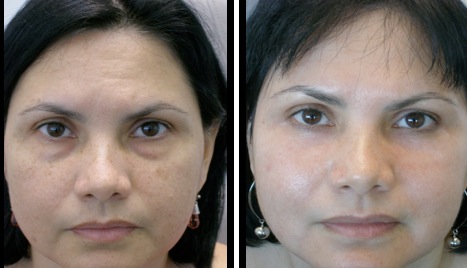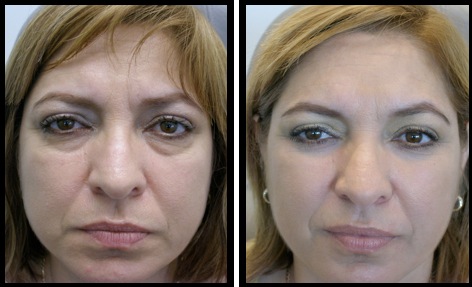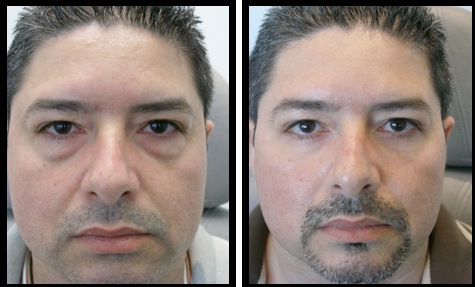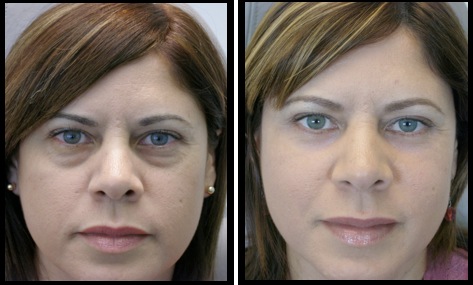 ---
Upper and Lower Eyelids: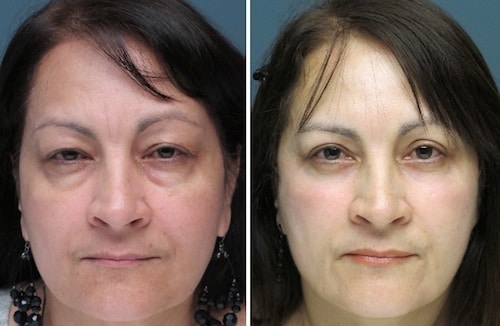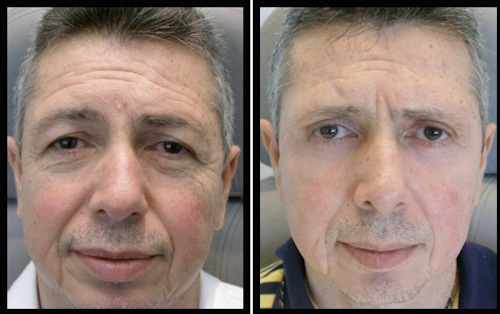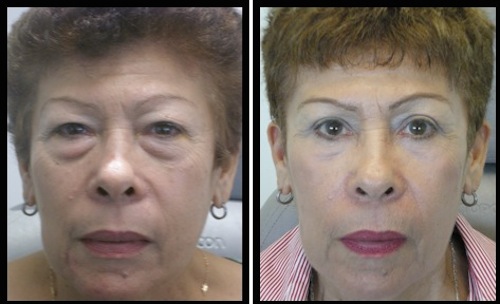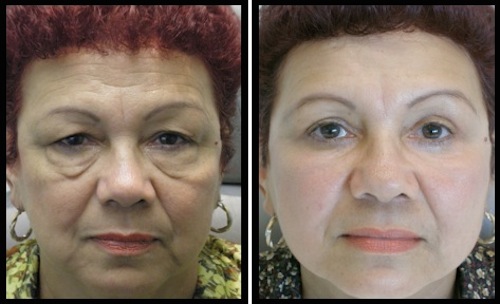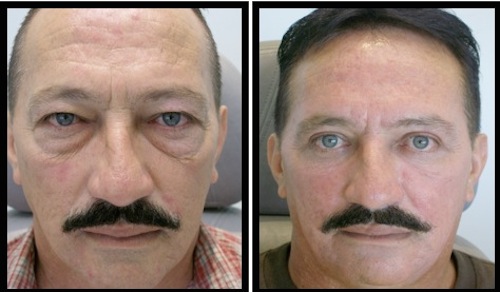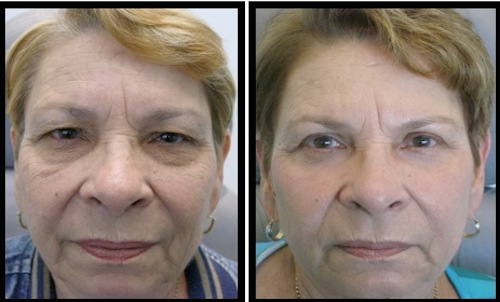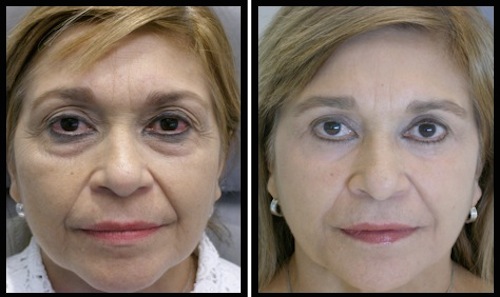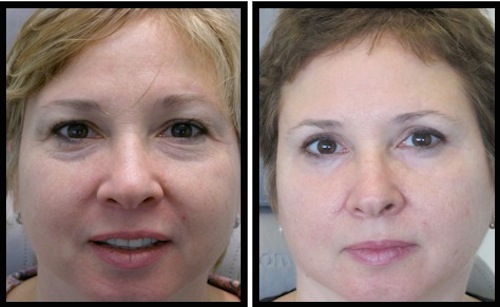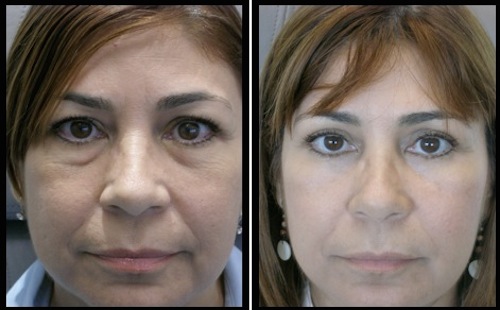 ---
La blefaroplastia o cirugía de parpados mejora la apariencia de los parpados superiores e inferiores para darle una apariencia más juvenil.
Mejora dramáticamente al rejuvenecer la apariencia de parpados caídos o cansados, y mejora la visión que se ha visto afectada por la presencia de exceso de piel alrededor de los ojos.  Esta cirugía debe ser realizada por un cirujano de ojos cualificado para evitar complicaciones y asegurar los mejores resultados.
Cirugía correctiva: blefaroplastia
La primera área que refleja envejecimiento es el área alrededor de los ojos.  Los parpados superiores e inferiores pueden desarrollar una apariencia poco atractiva por los pliegues, bolsas, hinchazón e inflamación.
La blefaroplastia puede corregir los parpados caídos, remover las bolsas de grasa debajo de los ojos y eliminar el exceso de piel de los parpados superiores.  La cirugía puede borrar años de su cara y hacerlo lucir joven.
La cirugía de levantamiento de parpados también se realiza en pacientes que tienen defectos congénitos o deformidades en los parpados. La visión periférica que ha sido obscurecida por parpados caídos  es restaurada.
La blefaroplastia también se realiza para corregir la falta de pliegue en los parpados superiores en personas de descendencia asiática. Un cirujano cualificado es el mejor profesional con quien discutir las necesidades de hacerse una cirugía de parpados. Este también podrá contestar preguntas relacionadas con los detalles de la cirugía y sus implicaciones.
Rejuvenecimiento de los ojos se realiza por las siguientes razones:
la presencia de surcos profundo o hundimiento alrededor de los ojos
Piel flácida o arrugada alrededor de los ojos
Exceso de grasa debajo de los ojos
Presencia de patas de gallina
El envejecimiento causa que los ojos se vean cansados y la persona parezca mayor de lo que realmente es.  La cirugía correctiva ayuda a mejorar la presencia de las personas significativamente. Los ojos lucirán descansados al eliminar el exceso de piel aumentando la confianza en sí mismo y la  autoestima.
La cirugía se realiza con anestesia local y sedación intravenosa. Se puede utilizar láser en el mismo procedimiento para mejores resultados.
Blefaroplastia: seleccione un Cirujano Cualificado
Aquellas personas que estén interesadas en hacerse una blefaroplastia necesitan verificar que el profesional sea licenciado y certificado. También necesitan saber sobre adiestramientos especializados que ha recibido el profesional.
Es recomendable encontrar un cirujano oculoplástico que tenga años de experiencia, ya que los ojos son una parte importante y valiosa del cuerpo humano.
Un cirujano especialista en ojo es recomendado para realizar la blefaroplastia.  El adiestramiento  para este tipo de cirugía es complicado e incluye conocimiento oftálmico, el cual un cirujano cosmético tradicional no posee.
El ojo humano es una estructura muy complicada y la selección del especialista correcto para una cirugía de ojo es una importante consideración.
Los cirujanos oculoplasticos son oftalmólogos adiestrados que  entienden como la blefaroplastia puede afectar la claridad de la visión.  Están acostumbrados a trabajar alrededor de la cara y los ojos.  Ellos pueden anticipar las complicaciones de la cirugía y reconocer problemas potenciales. Tienen la capacidad y la certificación necesaria para mantener estándares altos del cuidado de  salud visual.
Blefaroplastia Puerto Rico
Escoger a un cirujano calificado es vital para cualquier cirugía que implica los ojos. Usted puede optar por los servicios de un experto y calificado cirujano profesional en Puerto Rico para conducir una cirugía de párpado exitosa.
---
Expect nothing less from the international beauty doctor of Puerto Rico, Dr. José Raul Montes.
---