What is Botox For Men?
Botox is a prescribed medicine injected in small doses into specific muscles of the face to improve frown lines. It diminishes the expression lines and changes the muscle dynamics making the face look more relaxed and rested.
This procedure is performed in the comfortable and spacious outpatient environment in our office. Your treatment plan will be tailored to your specific needs and the effects of the injections begin to appear within a few days.
Before and After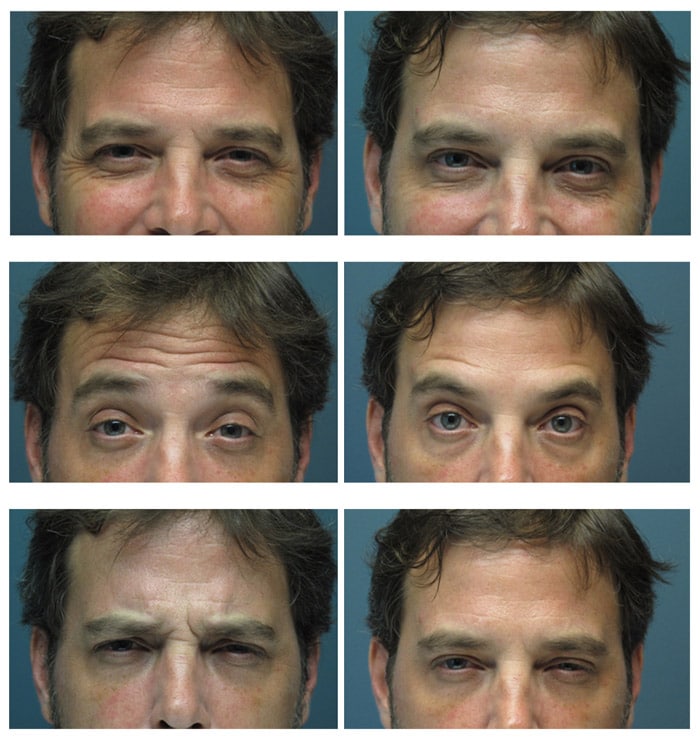 Treatment
Your treatment plan will be tailored to your specific needs. First, we determine whether you are a candidate for treatment with Botox. During the meeting, I will ask you about your goals to determine where to administer Botox and examine your ability to move certain muscles in your brow area. The location, size, and use of the muscles that create furrow between your brows can vary among individuals.
No anesthesia is required. We numb the area with a cold pack or anesthetic cream to avoid discomfort. Treatment consists of a number of tiny injections made through a very fine needle directly into the muscle. The duration is approximately 10 minutes for the entire treatment.
The effects of the injections begin to appear within a few days. The results generally last around four to six months, after which time, the injections must be repeated.
Risks
Botulin Toxin has been used in medicine for more than 30 years for different conditions and health disorders. Its cosmetic use started ten years ago providing the medication with a high safety profile. The main risk when the patient is not injected by an expert doctor, drooping of the eyelid may occur. This is a temporary effect lasting from 3 to 4 weeks.
Expertise
What healthcare professionals are best qualified to administer Botox? Those doctors that understand anatomy and the disorders around the area of the eyes are the best trained to inject Botox.
Dr. Montes applies his professional medical judgment, state of the art procedures and understanding of Botox to help male patients enhance their masculinity, look rested, fresh and very natural. Botox treatment is not employed simply as a wrinkle eraser. The difference is important and evidenced by the results.
When you work with Dr. Montes, you enjoy the expertise of the top practitioner in the Caribbean, the only certified trainer in Puerto Rico and that of an International Speaker, having trained thousands of physicians and surgeons in other countries.
Testimonials
«Dr. Montes is effective at enhancing masculinity and promoting a fresh, rested, and natural appearance. He knows how men's thicker skin is different. I travel from Boston for services at Dr. Montes office (which was just recently expanded to accommodate more services for men). I am thrilled with the difference and results; some significant lines on my forehead faded away, and my face is now more symmetrical, masculine. People have noticed and said I look great, but nobody knows exactly how or why. The discrete, bilingual staff is friendly and professional. I trust Dr. Montes and his team. Thanks!»
K. Z., Boston MA, August 2013
«La atención y servicios del Dr. José R. Montes y su equipo considero sumamente excelente. Estoy extremadamente satisfecho con el profesionalismo y en especial los maravillosos resultados de mis tratamientos de Botox. Todas mis amistades notan una diferencia y me preguntan que estoy haciendo para verme tan bien y más joven. Le recomiendo al Dr. Montes a cualquier hombre que desee mejorar su apariencia de forma discreta y altamente competente.»
F. R. R., Puerto Rico, Agosto 2013
«The attention and services of Dr. José R. Montes and his staff is considered by me one that is excellent and extremely professional. I am very satisfied with Dr. Montes' professionalism and specially the wonderful results of my Botox treatments. All of my friends have noticed a big difference in my appearance and they ask me what I have been doing to look so good and younger. I recommend Dr. Montes services to any man that wants to better their appearance in a discrete and reserved way.»
F. R. R., Puerto Rico, August 2013