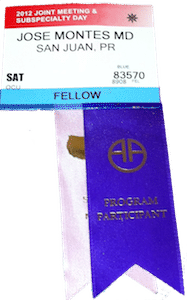 Chicago was the venue for the American Academy of Ophthalmology (AAO) and American Society of Ophthalmic and Reconstructive Surgery Meetings (ASOPRS) from November 8-12, 2012.
Dr. Montes participated in Dr. Jeff Nerad Study group and presented three cases to demonstrate his approach on the Cosmetic Patient evaluation.
Course 321 – Oculoplastic Procedures for the Comprehensive Ophthalmologist was succesfully Directed by Dr. Robert Kersten and faculty including: Dr. Francesco Bernardini (Genova, Italy) Dr. Carlo De Conciliis (Milano, Italy) Dr. Martin Devoto (Buenos Aires, AR) and Dr. José R. Montes (Puerto Rico).
Skill transfer lab with cadavers for teaching blepharoplasty techniques using different cutting modalities was directed by Dr. Keith Carter  and included Dr. Jose R Montes as one of the Instructors.