Barcelona Oculoplastics
26 Abril 2019 a 27 Abril 2019
Auditorio de IMO (Barcelona)
---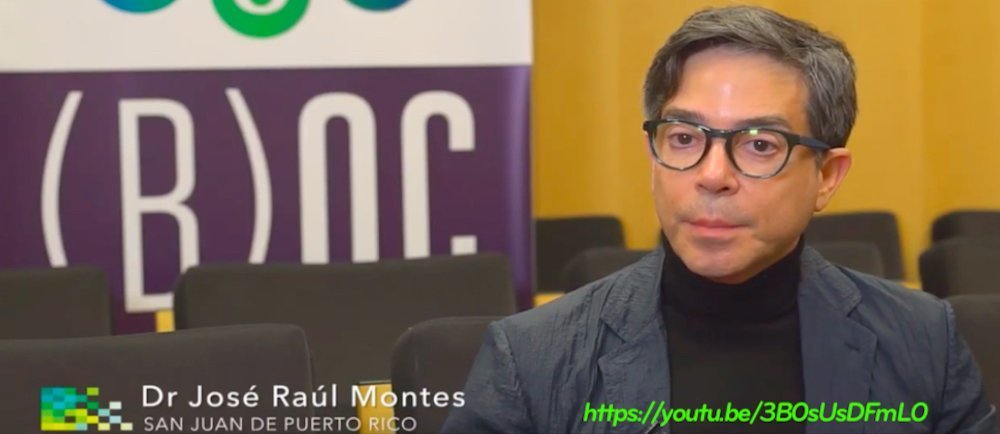 Dr. José Raúl Montes once again joined Esteemed Speakers at Barcelona Oculoplastics —in its 4th edition— bringing the most recent trends in oculoplastics and oculofacial rejuvenation at the Instituto de Microcirugía Ocular [IMO] in Barcelona, Spain.
IMO is at the forefront of innovation and ophthalmological research. Under the leadership of Doctors Ramón Medel, Luz María Vásquez & Juan Carlos Sánchez, the meeting gathered from different countries distinguished experts in eye surgery and aesthetic treatments.

Participants benefited from live surgery in 3D technology performed by prominent surgeons Ramón Medel, Naresh Joshi, Carlos Neves, Eduardo Rubin, Manuel Tomás & José Luis Tovilla.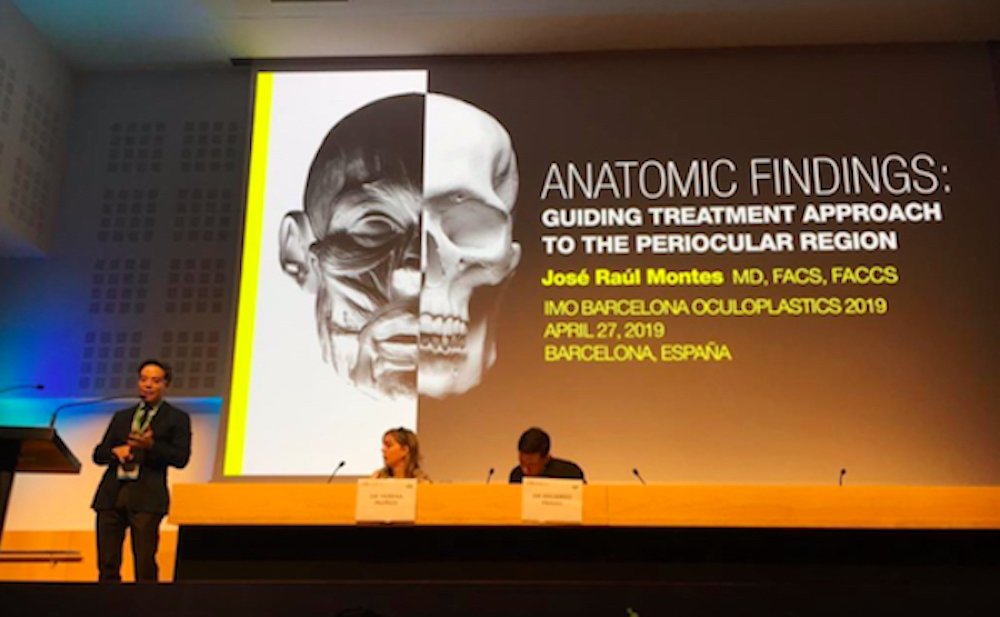 Dr. Montes shared his conference Anatomical Findings: Guiding Treatment Approach.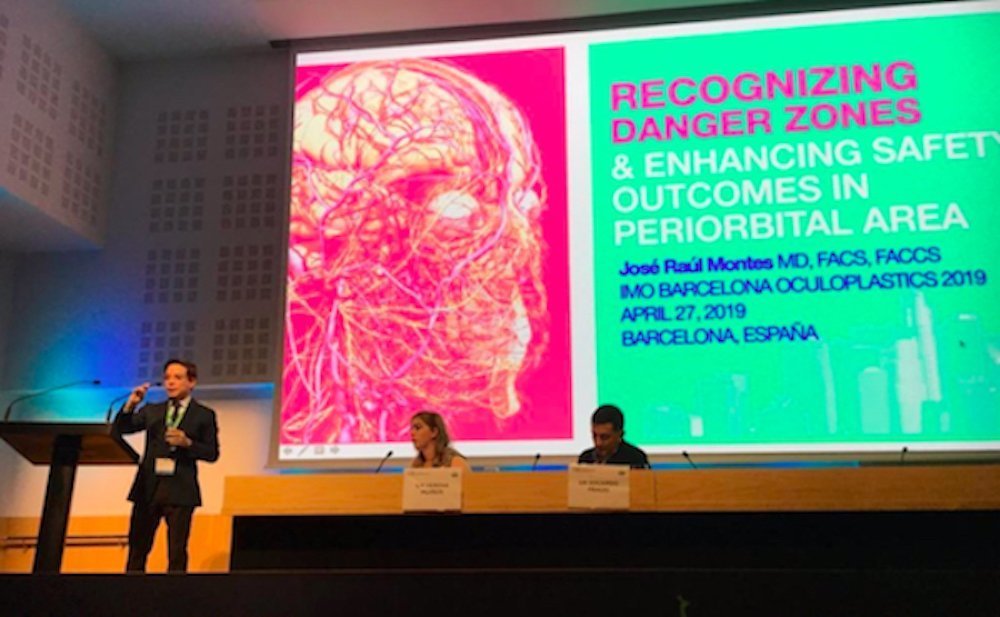 Further, he discussed the importance of Recognizing Danger Zones and Enhancing Safety Outcomes.

An Ultherapy® and CO2 Laser Workshop was conducted. Nevertheless, one of the meeting's highlights was the Injectables Workshop directed by Dr. José Raúl Montes.

"The specialists' role in the aesthetics' boom is crucial to put safety and natural looks before the demands of some patients, in this selfie era.»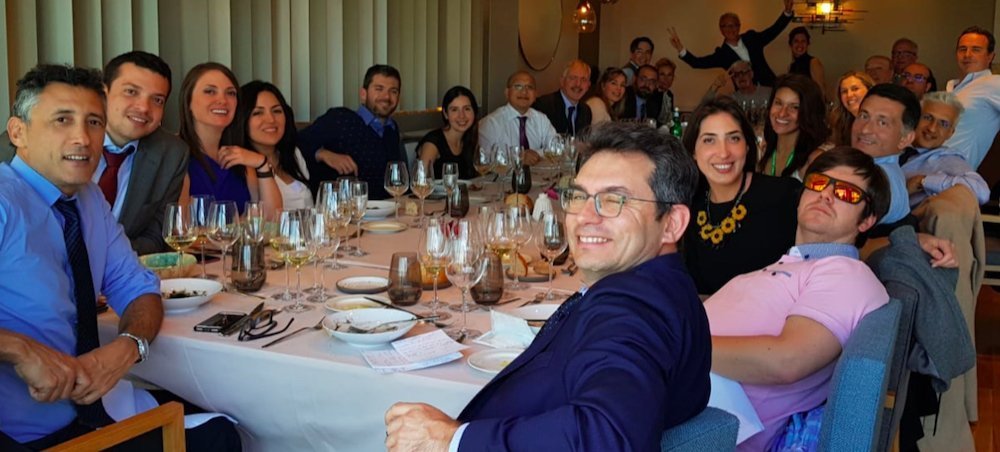 ---
COMITÉ ORGANIZADOR
Dr. Ramón Medel
Dra. Luz María Vásquez
INTRODUCCIÓN
Barcelona Oculoplastics-(B)OC- es un encuentro de referencia internacional que realiza una revisión y actualización de todos los conceptos y controversias que se deben tener en cuenta al manejar a un paciente que precisa cirugía funcional o demanda tratamientos estéticos de la zona superior del rostro. Está dirigido a oftalmólogos con interés en cirugía oculoplástica, cirujanos oculoplásticos y a otros profesionales con interés en la zona periocular (cirujanos plásticos, médicos estéticos, dermatólogos, etc.).
¡Reserva la fecha! La próxima edición se celebrará los días 26 y 27 de abril de 2019.
DESCRIPCIÓN
Barcelona Oculoplastics es un evento dinámico y práctico, con la participación de reconocidos cirujanos invitados, que realizarán cirugías en directo para dar solución a patologías de los párpados (ptosis, retracción, blefaroplastia, etc.). Asimismo, tendrá lugar un taller de estética oculofacial, durante el que se aplicarán tratamientos en pacientes reales. Y todo ello, mostrando las últimas tendencias y abordajes.
Este encuentro también contará con una sesión de seguimiento de pacientes intervenidos en directo y tratados durante las 3 ediciones previas, celebradas en 2012, 2015 y 2017.
Esperamos contar con vuestra asistencia y recibiros en IMO en abril de 2019.
LUGAR
Todas las conferencias tendrán lugar en el Auditorio del Instituto de Microcirugía Ocular (IMO) de Barcelona. Esperamos contar con vuestra asistencia y poder recibiros en la nueva sede del Instituto de Microcirugía Ocular de Barcelona.
Cómo llegar
Fundación IMO
Josep María Lladó, 3
08035 Barcelona
Tel.: (+34) 934 000 700
E-mail: informacion@imo.es
En coche
Coordenadas navegador GPS:
41º 24' 38" N – 02º 07' 29" E
Salida 7 de la Ronda de Dalt (lado montaña). La clínica cuenta con un aparcamiento de más de 200 plazas.
En bus
Autobús 60: Rotonda de Bellesguard, parada 1540
Autobuses 60, 123, 196: Ronda de Dalt – Bellesguard, parada 0071
Alojamiento
Hotel Arts Barcelona
Calle Marina 19-21
T: +34 93 551 30 00
E-mail: artsreservations@ritzcarlton.com
Hotel Fairmont Rey Juan Carlos I
Avenida Diagonal 661-671
Teléfono: T: +34 93 364 40 40
E-mail: bcn.reservas@fairmont.com
Hotel Mandarin Oriental
Passeig de Gràcia 38-40
T: +34 93 151 88 88
E-mail: mobcn-reservations@mohg.com
Hotel Catalonia Mikado
Passeig Bonanova, 58
Teléfono: +34 93 211 41 66
E-mail: mikado.reservas@hoteles-catalonia.es
Hotel Silken St. Gervasi
Sant Gervasi de Cassoles, 26
Teléfono: +34 93 253 17 40
E-mail: stgervasi.booking@hoteles-silken.com
Hotel Tres Torres Atiram
Calatrava, 32
Teléfono: +34 93 417 73 00
Hotel Vilana
Vilana, 7
Teléfono: +34 93 434 03 71
E-mail: recepcion@vilanahotel.com
Aparthotel Bertran
Bertran, 150
Teléfono: +34 93 212 75 50
Aparthotel Bonanova
Bisbe Sivilla, 7
Teléfono: +34 93 253 15 63
E-mail: info@bonanovasuite.com
Una ciudad con carácter
Barcelona es una ciudad creativa, abierta y vibrante, con una intensa vida cultural, política, empresarial y comercial. Es una gran metrópoli donde se pueden oír hablar todas las lenguas imaginables y, al mismo tiempo, es también una ciudad que invita a conocer su cultura y las tradiciones catalanas.
La Casa Batlló de Antoni Gaudí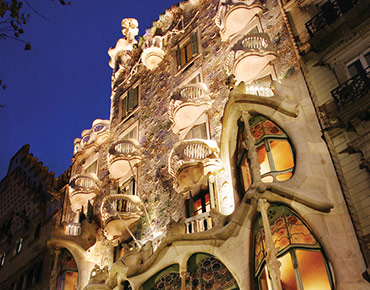 Vista de la Plaça Espanya