Committed To Connection | Dermatology Times


San Juan, Puerto Rico-based oculoplastic surgeon José Raúl Montes, M.D., credits his musical theater experience and his instinct for staying in the moment for his ability to connect with audiences worldwide.
Once a wallflower, Dr. Montes is now a sought-after speaker and trainer for injectable aesthetic treatments. He speaks regularly at conferences in the United States, Europe, Latin America and Asia. None of this, however, was planned.
He caught the music bug from his father, an amateur singer.
"I knew that I could sing, because, since I was a little boy, I was already secretly singing on my own," he says.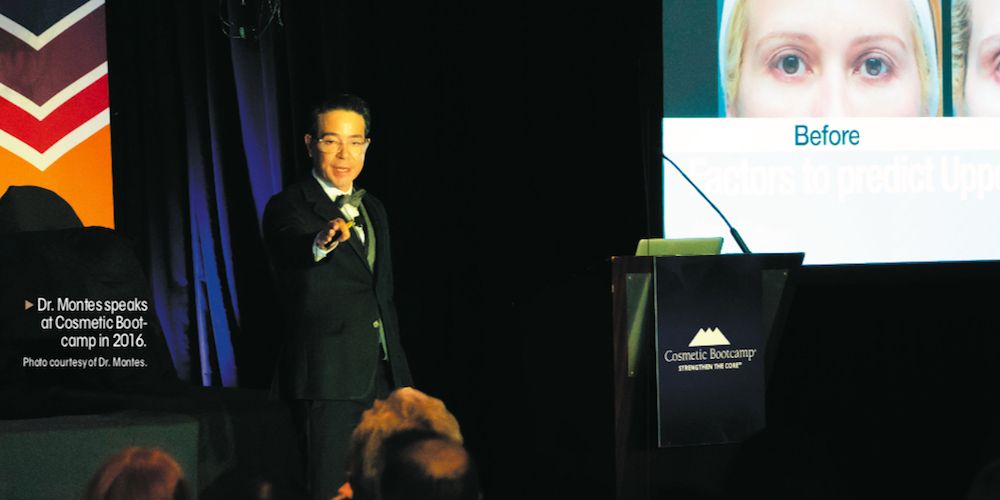 HITTING THE RIGHT NOTES
Dr. Montes said that when he worked up the nerve to audition for a high-school musical, the director exclaimed that he was the only candidate who could hit all the notes. His talents were later displayed at the yearly talent show of the University of Puerto Rico School of Medicine.
Dr. Montes finished his medical school requirements as a junior at Cornell University.
"So during my last year, all I did was take Italian, Spanish literature and theater," he says.
However, after his residency at University of Puerto Rico, the development of a vocal cord cyst halted his singing. After surgery, he could not even speak for a month.
Dr. Montes' voice had healed by the time he finished his oculoplastic surgery fellowship at the University of Cincinnati. He now sings as a hobby and takes voice lessons to prevent future problems. Dr. Montes' path somewhat parallels that of rheumatologist Ronan Kavanagh, M.D., who plays piano and has a passion for treating musculoskeletal injuries in musicians. Dr. Kavanagh was profiled on The Doctor Paradox podcast in 2016.
"Once in a while, when I have the opportunity, I sing," Dr. Montes says. For example, at the recent Cosmetic Bootcamp in Aspen, Colorado, he crooned a couple lines of the Sinatra standard "Love and Marriage" as a metaphor for the synergy of neuromodulators and fillers.
"When I speak, I look at people and try to connect with them. That's why I never speak from the podium," he says. Instead, he walks among the audience with a mobile microphone and earpiece monitor.
Dr. Montes chose oculoplastic surgery for fairly practical reasons. By the time he had finished his ophthalmology residency, the department director, who was also a renowned oculoplastic surgeon, had just retired, leaving no attending oculoplastic surgeons at the University. The incoming director offered to hire Dr. Montes if he chose oculoplastics.
"I knew I was coming back to a position at the department," Dr. Montes recalls.
He started performing mainly large-scale functional surgeries.
"I never thought I was going to end up having a completely cosmetic practice," Dr. Montes notes. However, during his ophthalmology training and oculoplastic fellowship, Dr. Montes had gained experience and confidence injecting neuromodulators in the eyelid and perioral areas for medical indications, which led him to a successful practice.
He started injecting Botox (onabotulinum toxin A, Allergan) for cosmetic indications shortly after its approval in 2002.
"Suddenly, I had large clinics of people coming in just to get Botox," he recalls. He reorganized his schedule to perform aesthetic procedures in the afternoons. Dr. Montes' practice grew further with the addition of injectable fillers a few years later. After eight years with an ophthalmology practice group, he ventured into private practice. Despite the growth of Dr. Montes' cosmetic practice, he is still committed to his responsibilities as a professor in the Department of Ophthalmology at the University of Puerto Rico School of Medicine. These duties include holding weekly clinics, overseeing residents and spearheading workshops, such as the Dr. Guillermo Picó Santiago Basic Ophthalmology course.
Over time, manufacturers of injectable treatments took notice that he was purchasing products in such large amounts that they approached him to be a trainer and speaker for their products. Many manufacturers have given him exclusive rights to introduce new treatments in Puerto Rico. These duties have allowed him to continue learning from and exchanging expertise with master innovators and injectors worldwide.
In his aesthetic practice, Dr. Montes will not perform procedures that he has not undergone himself. "I don't try anything in my practice that I don't believe will give a secure and visible result." Eyelid surgery makes such a noticeable impact, he explained, that his patients would not accept treatments that do not provide visible results.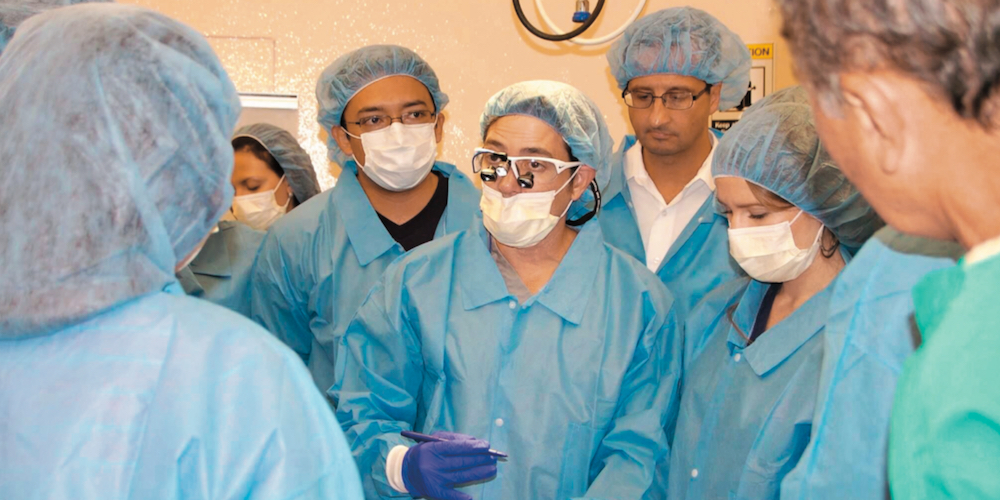 RIDING OUT THE STORM
When hurricanes Irma and Maria hit Puerto Rico in September 2017, the connections Dr. Montes has made through the years with peers and patients helped him stay afloat. "I was speaking and injecting in New York at the Cosmetic Bootcamp University." After the hurricane hit, he quickly learned that his family members were safe. "However, I didn't have anyone to tell me what happened in my office."
Dr. Montes could not immediately return to Puerto Rico due to lack of flights. He was fortunate, he said, that all of his close colleagues in New York reached out, assuring him that if he needed temporary office space, they would provide it. Having many patients who live in New York, where he is also licensed, Dr. Montes took Diane S. Berson, M.D., up on the offer. The following week, manufacturers sent products to her office so he could treat patients.
After speaking at the American Society for Dermatologic Surgery meeting in Chicago, Dr. Montes was able to return to Puerto Rico on October 8. His office was intact with minor flood damage. "I called all my employees and said, 'We're going to start working without electric power. We're going to make sure that we can connect somehow with our patients to let them know we're here.'" Dr. Montes and his employees relied on daylight, and a generator for their server.
To Dr. Montes' surprise, his was the only practice in a building full of medical specialists that was seeing patients. "Two weeks after the hurricane, they were not going to the cardiologist, rheumatologist or internist. They were coming to my office for cosmetic procedures. I realized at that moment that my practice was resistant even to a natural disaster." ƒ