At the meeting, experts in the field discussed the latest techniques and innovations to treat acne, hyperpigmentation, volume loss and more.
«Oculoplastic surgeon Jose Montes, MD, provided an overview of surgical approaches to the periorbital region. I always find this helpful as it enables me to understand what issues are better suited to a surgical approach. Evaluation of eyelid laxity was explained and the snap test of the eyelid was demonstrated.
Surgical methods of dealing with periorbital fat pads and of extra eyelid skin were explained. For many in the audience, this not only helped to explain the limitations of lasers and injections but also to help them explain to their patients what surgical correction could accomplish.»
KENNETH BEER, MD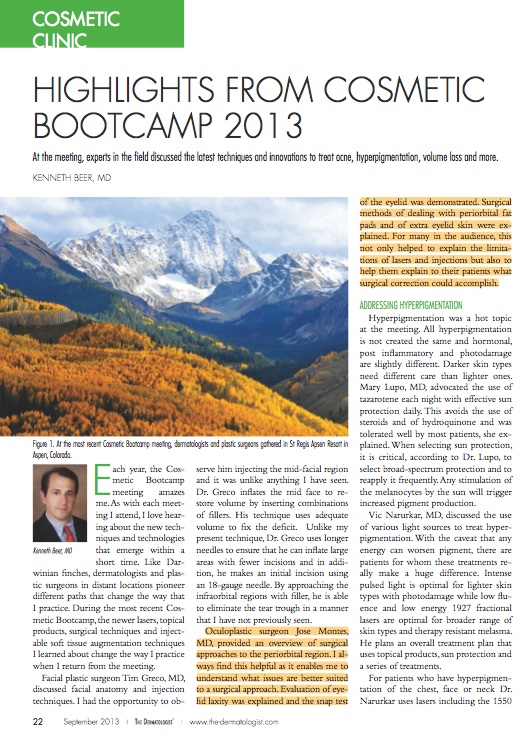 Download full article in PDF here
Announcement:
Cosmetic Bootcamp Summer Meeting

June 20-23, 2013 at the St. Regis in Aspen Colorado


This is the 9th annual Cosmetic Bootcamp Summer Meeting and bigger and better than ever. Become a part of the bootcamp family and you'll develop relationships with a diverse group of professionals in aesthetic medicine. We hope you'll agree that the contacts you make at Bootcamp is the gift that keeps on giving!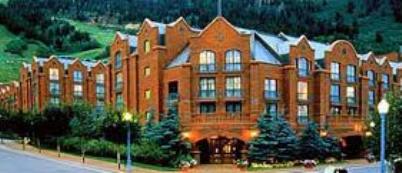 Founding Directors
Kenneth Beer, MD
*Mary Lupo, MD
Vic Narurkar, MD
Dermatology
Kimberly Butterwick, MD
Jeanine Downie, MD
Patricia K. Farris, MD
Roy Geronemus, MD
Geroge Hruza, MD
Wendy Roberts, MD
Ava Shamban, MD
Facial Plastic Surgery
Timothy Greco, MD
*Jonathan Sykes, MD
Oculoplastic Surgery
Steven Fagien, MD
*Jose Raul Montes Pagan, MD
Plastic Surgery
Julius Few, MD
Daniel Kapp, MD
Ivona Percec, MD
Grant Stevens, MD
Business Faculty
Jake Laban
Jason Riis, PhD
David Sarwer, PhD
Polly Wood
*Course Co-Directors
Thursday June 20
REGISTRATION
WELCOME RECEPTION
Friday June 21
ALL DAY SESSIONS, DEMOS
Saturday June 22
ALL DAY SESSIONS, DEMOS

Sunday June 23
HALF DAY SESSIONS, DEMOS

LIVE PATIENT INJECTION SESSIONS ON FRIDAY AND SUNDAY
SO MANY LIVE DEMONSTRATIONS…
Battle of Northern CA vs.Southern CA
Vic Narurkar, MD; Ava Shamban, MD
The Perfect Lip
Vic Narurkar, MD
Mid Face Volumizing
Jonathan Sykes, MD; Kimberly Butterwick, MD
Countdown to Beauty- Treatment Plans for a Patient in their 70's, 60's and 50's
Wendy Roberts, MD; Jonathan Sykes,MD; Timothy Greco, MD
Contrasting Treatment Approaches by an Oculoplastic Surgeon
and a Plastic Surgeon
Jose Montes, MD; Ivona Percec, MD
Combination Therapies – Peels & Injectables
Ava Shamban, MD
Countdown to Beauty – Treatment Plans for a Patient in their 40's and 30's
Steven Fagien, MD; Julius Few, MD